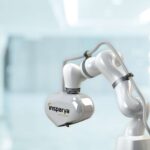 How does Insparya Dual Extraction Device work?
This technique allows a wider, faster and more accurate extraction of follicular units, together with less damage to the skin tissue in the extraction area.
It consists in a minimally invasive procedure, with local anesthesia, that allows patients to return to their daily activities in a few days.
It ensures definitive results and natural and uniform hair without scars or other marks commonly visible in traditional hair transplant techniques.